Wow!  I checked out the Weekly Deals this morning and holy moly if you like embossing or have considered getting into Embossing folders, this is your week!
You can get
6 Embossing Folders
the Texture Boutique machine to emboss your paper with them
a free stamp set, paper pack, or blendabilities of your choice from the Sale-a-Bration catalog
All for only $58 this week!  Totally great deal!  Shop these deals online here.
If you wanted an even better deal – consider getting the starter kit and you can get
5 embossing folders
The Big Shot for embossing OR die cutting
All for only $99 plus free shipping and then you'll be a part of my Fun n' Crafty demonstrator group and get a minimum of 20% off your future orders too!  Learn more here.
Quick share today of a card I did in my Flip Card technique class where we used the different Flip Card thinlits.  For this sample, we used the Label Thinlit and the dies that came with it for this fun love card:
Tips for making this card:
Start with a 5.5″x11″ piece of cardstock for your card base.
Place the thinlit die over the cardstock so that the left side of the die exactly matches the left side of the cardstock.  Then 

tuck the right edge of the cardstock OVER

the right side of the die.  It will look like your paper is threaded through the die.  (under the left and the middle of the die, over the right end of the die).
After you run the paper through the Big Shot, you should have the flip part in the middle cut out and a score line on the right 1/3rd.  Fold in on that score line.
Use the Pictogram Punches stamp set to decorate the outside, and then the Perfect Pennants stamp set decorate the inside of the flip part.
Punch out a Crushed Curry scallop dotted ribbon and adhere along the INSIDE of the flipping edge so that half hangs over the edge (so you can see it when the card is closed).  Layer a white label die cut (that comes with the thinlit set) over the yellow ribbon cardstock to cover the middle.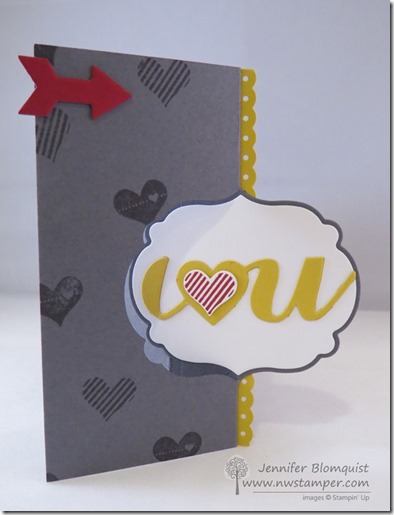 Well, tomorrow I leave for leadership… so watch for videos, pictures and more from me from the fun in Orlando!