Last week, I got my This and That bundle and finally had a chance to sit down and start playing with it all.  So, this is the first project I created with it: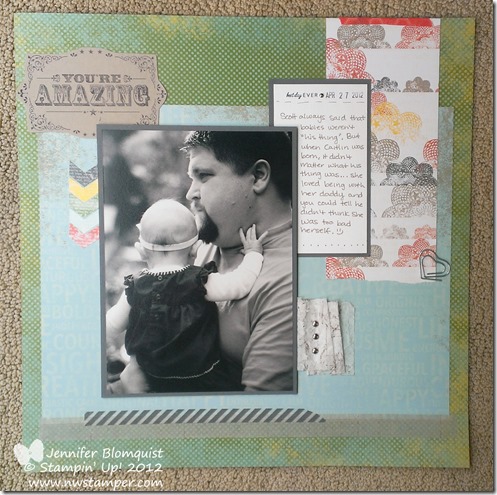 The full collection (which I had to grab since you get 15% off if you get it as a bundle) includes:
12×12 designer paper

4 pack of stickers

3 rolls of washi tape

rotary date stamp

spiral bound journal with embossed cover
I had a bunch of friends who had gotten into the washi tape craze and I even had a couple spools of it but I was still trying to figure out how I was going to use it.  However, it seemed to get easier for me as I started playing around with this layout.  The first place I used it was for making a border at the bottom of my blue designer paper and then I layered a second pattern of tape to highlight the photo above.
Then I ended up using the 3rd pattern of washi tape at the top of my page as an accent over the top edge.  You'll also notice the rotary date stamp on the journaling section.  You pick your sentiment and the date, ink, and stamp.  When I stamped, I wanted to add a little something else, and turns out a mini brad fits perfectly between the sentiment and date.
I also wanted to use some of the stickers that come in the collection.  I knew I was going to use the journal with most of the stickers but I decided that these chevrons (which are each individual stickers) would be a good color accent on that side of the page.
So, overall, I wasn't sure what I thought of the heavily distressed look of the papers but it turned out when used together they look great.  Especially when you are using black and white pictures.
Finally, I wanted to share something that I didn't realize when I ordered the journal.  I knew that each page in the journal is designer paper in nice base patterns (no big words or overwhelming elements), but I didn't realize the first and last page were pocket pages.  Plus inside the front pocket were tucked 2 pocket pouches that can be glued in anywhere in your book (or other projects)
I still can't decide whether to use my journal for carrying with me to record the random funny things my kids say and do, or if I want to use it for all the inspiration I see for projects and designs.  Kind of like an offline Pinterest!
And don't miss out on the free shipping promotion!  You have until tomorrow evening to receive free shipping on any order no matter how big or small!

To Order Stampin' Up! Products Anytime, click here!
Don't Forget!  RSVPs and mail order kit orders are due soon for the Print Poetry Class coming up on April 20th!
Can't make the party?  Class by mail and instruction only options are available – check it out here