As I was thinking about projects for the Halloween Punch Art Blog Hop, I came up with this idea in my head for an interactive Jack-o-Lantern.  I had ideas for making it hold a gift card and some other stuff, but when I sat down to make it, it just wasn't coming together.  Finally today I got some more time with it and this is what I came up with: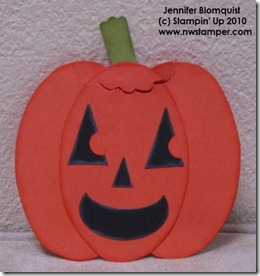 He may look small in the picture, but he is actually made using the Scallop Oval Bigz Die for the BigShot.  I think he is about 5"x4.5" or something like that.  But you see the scallop cut at the top of the pumpkin?  That's because…. Surprise!  He's a gift card holder.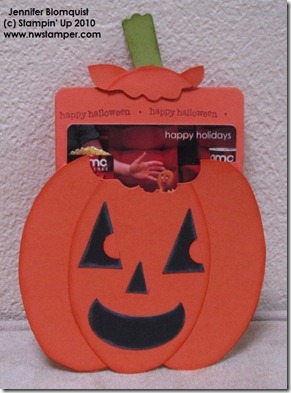 I wanted this to be a stand alone card/project but at first I had a hard time making it work.  I even have a card base all ready to adhere him to; but after I had the sticky strip in place, I was inspired to try one more time to make him all pumpkin.  So, 3 more ovals later….
This entire card was made using punches and BigShot dies.  Once I had the design down, it was really easy to make and fun too.  The gift card rectangle part actually slides into and out of the pumpkin, so when you have the gift card in place, it just looks like a pumpkin front and back.  So, something a little different, but a lot of fun.
Funny side note – I don't actually have the scallop oval Bigz die, so I made this guy by tracing the oval from a swap I had received and then using that to trace and hand cut out 6 ovals!  What we do for the love of our craft. 🙂
Punches used –
Bigz die (Scallop oval), Large Star punch (eyes & nose), 1/2" circle punch (eyes),  Large Oval punch & Wide Oval punch (mouth), Modern Label (stem), Corner Rounder (gift card holder), Slit punch (gift card holder), 3'/4" circle (spider), Curly Label punch (spider legs)
Want the tutorial?
I have had numerous requests for the instructions and so I've created a full tutorial with step-by-step instructions and photos for each step.  The 14 page, full-color pdf will be emailed to you for only $1.95.
In the San Francisco Bay Area? I'd love to stamp with you!  Check out my calendar of events at http://nwstamper.stampinup.net/events or drop me a line to schedule a time for your own personal crafting time!