Woo hoo! Today is the day that I'm heading to Utah for Founder's Circle and I don't think I could be any more excited! 5 days to relax, stamp, explore, and socialize with some amazing stampers and demonstrators – what could be a better vacation?
I'll be blogging from my trip in Utah as well as offering a Founder Circle special while I'm away! So, be sure to stop back by the blog to catch all the excitement.
---
But, while I'm traveling, I wanted to make sure to share with you some new project ideas using the Christmas Star holiday single stamp.
This stamp is an elegant way to decorate or create for the holidays. And the coolest part is that it is super easy to make it pop-out into a 3D star! But more on that in a minute.
Now, first thing, I'll warn you – this stamp is bigger than you think. I ordered the stamp and didn't really pay attention to what clear block the flyer listed that was required for it. I assumed one of my medium blocks would work – NOPE! It takes the biggest block (block F).
Yup. That is a 4.25" x 5.5" card base and the Christmas Star next to it!
Now, you may be wondering what can I do with a stamp that big?
Why, make cute cards and home décor projects, of course!
The first thing I did was make a Christmas card with the star.
I decided to go for a more vintage-y feel and so I stamped on Crumb Cake paper with my Cherry Cobbler ink. Sponge the edges with Crumb Cake ink and then add a touch of sparkle with some Silver Glimmer paper. Pretty, no?
Then I wanted to play with the fact that you could make the star into a 3D star.
How do you make the Christmas Star pop up?
Stamp your Christmas Star image on a piece of white cardstock
Cut out the star (yes, you need to hand cut this, but it isn't as bad as you think)
Fold the star in half using the white lines that radiate out from the center of the star as guidelines.
Use your bone folder to press each fold line (you should fold in half 5 times)
Set your star on a table or flat surface and then gently squeeze the sides in to cause the center of the star to push up off the table.
Your star should stay dimensional and you can now add it to your projects!
Once I made my star, I knew I had to put in on something, so I made this rosette ornament.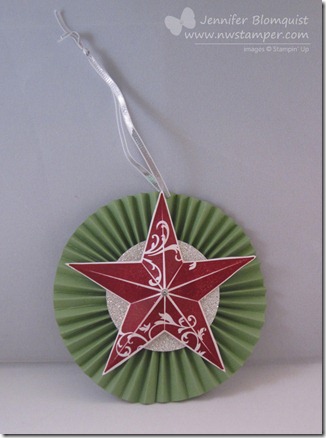 I cut two strips of 1.75" x 11" pieces of Wild Wasabi cardstock and then scored it at 1/4" increments. Then I could fold my paper back and forth to create the accordian look.
Glue the ends of each strip together to make one big circle and then push the center down flat to make my rosette. Now, I haven't made many rosettes before, and I'm a complete newbie to my hot glue gun…. so, when I had to hot glue the middle of my rosette together so it would stay flat, it got a bit messy! But it works, and I covered it up, so you'd never know!
Then I just added a circle of Silver Glimmer paper (adhering with hot glue again) and then added my star (adhering with glue dots) to the top. Punch a hole in the rosette and run some of the new Silver 1/8" taffeta ribbon from the holiday catalog and you have yourself an ornament!
Oh, and the rhinestone! Don't forget the rhinestone in the center of the star!
So see, there are lots of cute things you can do with this stamp – even if it is big!
Founders Circle Special – Double Rewards All Weekend Long!
Since I can't take you all with me to Founder's Circle this weekend, I thought I would try to do something special to celebrate anyway.
So, from 9/18–9/22, receive DOUBLE your reward punches for each purchase!
That is right! For every $40 you order, you will receive two punches on your punch card and be that much closer to receiving a free stamp set of your choice!
See how Northwest Stamper Reward Punches work
and as an extra thank you,
Everyone who places an order between now and 9/22 will be entered to win a free Christmas Star stamp and Rhinestones!
So, have a great weekend and I'll see you back on here soon!