Since the end of last year, I've started to get on a scrapbooking kick.  I realized that I had a lot more fun and was much faster with scrapbook pages when I started from a sketch and so I started playing along with some sketch challenges.  This was a page I created based on a sketch by the very talented Kristy Lee.
Normally, I am one of those people who try to jam a million 4×6 pictures onto a 12×12 scrapbook page; so the idea of only having one picture is definitely outside of my comfort zone.  However, I loved this picture and it stood alone well for the story (Nicholas getting his first tooth) that I just went for it.
It also meant I had lots of space to fill with other elements on the page.  So I grabbed my new Mixed Bunch stamp set and matching Blossom punch from the Occasions mini and am pretty sure I used every stamp in the set!
I punched and popped up the flowers with varying heights to add some dimension to the page.  And then I added some extra accents for fun – a brad here, some dazzling details on the Tangerine Tango center of the white flower (hard to see in the picture), and some Crystal Effects on the green flower thing.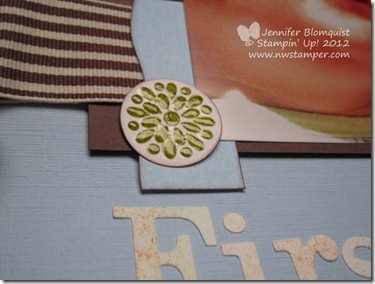 You can also kind of see in this picture how I had fun sponging the letters for my title.  I busted out my Big Shot to cut them out but thought white was too stark.  So, thanks to the awesome color matching-ness of Stampin' Up papers and inks, I was able to pull in the colors of the papers by sponging the coordinating inks across the letters (well, I actually sponged the paper and then cut out the letters, but you get the idea).  This was a new idea for me; and I'm definitely going to have to do it again.

To Order Stampin' Up! Products Anytime, click here!
First Tooth Scrapbook Page Recipe:
Stamps:  Mixed Bunch
Ink:  Old Olive classic, Tangerine Tango classic, Chocolate Chip classic, Bashful Blue classic
Paper: Old Olive designer paper, Bashful Blue textured cardstock, Chocolate Chip cs, Whisper White cs, Crumb Cake cs, Tangerine Tango cs, Old Olive cs
Accessories:  Chocolate Chip 1-1/4" striped grosgrain ribbon, Crystal Effects, Gold Brad, 3/4" circle punch, 1" circle punch, Blossom punch, sponges, Stampin' Dimensionals, Ticket corner punch, Paper piercer, Dazzling Details, Star stickers and border from retired SS kit, Timeless Type Junior Alphabet, Big Shot