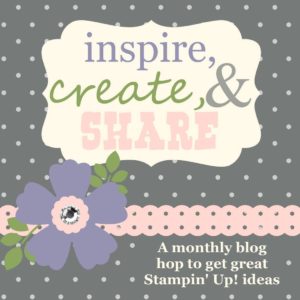 It is fully October, if you couldn't tell from all the Pumpkin Spice EVERYTHING that is in the stores and restaurants!  And that means that we are ready to head out of summer and jump into fall.  To help get you in the spirit and thinking of changing leaves, pumpkins, and all things warm and cozy… the gals at the Inspire, Create, Share blog hop group have put together another fun hop to share with you lots of Fall themed projects!
I wanted to break out some of the great designer paper I had ordered from the Holiday catalog and break out those fall color combinations.  And while I was thinking about what to create, I suddenly remembered this oldie but goodie stamp set – Wonderous Wreath!  Check it out:
Usually you see the wreath with Christmas or winter colors, but there is no reason why it can't be fall instead!  I just grabbed my Petals & Paisleys designer paper and flipped it over to the back to look at the label where the professionals at Stampin' Up have already come up with a great color combination.  I just use it as my crib sheet!
  Try this combo on for size:
So, I just used those colors to create my wreath!  The coordinating wreath and bow dies made it a cinch to cut out and then I just needed to start layering it onto my card. 
Since I had used the colors from the Petals and Paisley designer paper, it was a no brainer to pick my favorite patterns to layer on the left of the card.  Then I wanted to add just a touch of texture so I cut a piece of Crumb Cake cardstock and embossed it with the Woodgrain embossing folder for the perfect backdrop for the wreath itself (don't forget to sponge the edge of the embossed paper with Soft Suede ink to really distress it!)
Then I just needed a sentiment and I'm so super in love with this one from the Suite Seasons stamp set in the Holiday Catalog.  You've seen me use this sentiment on Very Vanilla cardstock and color in the decorative piece.  But since I didn't want that accent to take away from the wreath, I left it simple and subtle with Soft Suede ink.
This card showcases a fun way to use some of your favorite patterns from the designer series paper.  Right now many of the papers are buy 3 get 1 free!  Woo hoo!  I totally spaced and forgot this was a specialty paper, so it isn't in this sale, but change this up for the Presents and Pinecones designer paper that IS on sale, and make the wreath holiday and you are good to go!
I hope you have enjoyed this Fall inspiration idea!  Keep on hopping and check out what Candy has in store for you, for even more fun fall ideas.
Thanks for hopping!
October Online Stamp Club Hostess Code – YG62GG6C
Get free exclusive tutorials each month and even get the supplies in a Make & Take kit with your order over $40 when you use the monthly hostess code!
Project Measurements:
Crumb Cake cardstock – 5 1/2″ x 8 1/2″, 2 3/4″ x 2 3/4″
Very Vanilla cardstock –3 1/4″ x 3 1/4″, 2″ x 2″
Petals & Paisleys designer paper  – 1″ x 5 1/2″, 1 1/4″ x 5 1/2″
Product List