Ever have one of those days where your mojo is kicking in and you are able to make some projects that just make you smile?
I hope so!  Yesterday was one of those days for me and I was having such a blast finishing getting ready for my Awesome Embossing class this weekend.  I had such a hard time narrowing down what I wanted to showcase for the class since there are so many cool embossing techniques and so many variations on what you can do with many of them.  But I focused down to 4 different ideas that I loved.  However, my absolute favorite was the card I'm sharing today – the Emboss Resist card!
I had just gotten my new Lacy and Lovely stamp set…so glad I got this set!…and I thought it would be perfect for this technique.  I tried to stick to a more monochromatic style card even though I added a few other hits of color; and so my focus was on the Calypso Coral elements around the white embossed doily image.
Seriously, this is so quick to do and such a pretty result!  I've decided I'm going to do this card for my swaps at the Stampin' Up! regionals in Tacoma in a couple weeks.  So if you are going to Tacoma, find me and I'll swap with you. 🙂
And this isn't the best picture, but I thought I'd share a sneaky peek at my first Halloween card and another embossing card for the class: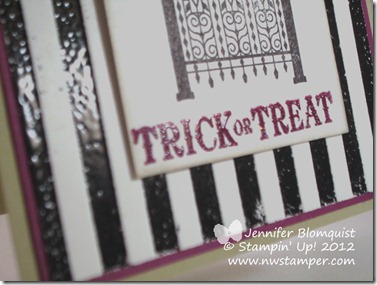 I promise I'll share the full card soon!
Well, I'm off to take my family to the Puyallup fair.  This will be Nicholas and Caitlin's first time at a big fair and hopefully they love seeing the animals, displays, and other fair favorites while we are there!  Wish me luck that I don't get sucked into too many "you've never seen a knife that cuts like this!" demos and displays.  🙂  I love all the too-good-to-be-true stuff that seems to always be offered at these events.
Now just ask me how many of the items like that that I've bought at fairs have actually gotten use after I've gotten home… no wait, maybe you better not. 😉

Shop for Stamps and More Online, click here!
Don't Miss It! Free Stitched Satin Ribbon with every $40 purchase!
Are you earning your Northwest Stamper Rewards? Every order gets you closer to your FREE stamp set! Click here to learn more!