Total SPOILER ALERT!!!
I'm so proud of myself for actually finishing a Paper Pumpkin kit in the same month that I got it.
  I have to admit, I've gotten really bad about getting a kit in the mail and being so excited to make the project… and then letting the box get buried on my desk only to be dug out weeks later.
But no more!  I just launched a new Facebook group to share Paper Pumpkin project kit tips, alternate ideas, and the occasional great deal!  So now I have to start making my kits on time so I can share in the group when everyone gets their kits.
  Feel free to join us here – Paper Pumpkin Fun with Northwest Stamper.  Anyway, this was a fun kit and I thought really cute.  I especially loved the thin wood accents on the banner card!
PSST – Did you know that you have the option to either (1) subscribe monthly to Paper Pumpkin, but you also can (2) prepay your subscription for you OR as a GIFT??  Prepaid subscriptions for 6 month or 12 months actually get you discounts, can be combined with other catalog purchases, and can even earn you hostess benefits!!  (check out prepaid subscriptions online here)
Ok, back to today… it is also Walkthrough Wednesday and so I thought I would share my alternative card ideas I came up with from the kit and help walk you through them too.  So here are the alternative cards:
And you can check out the video about Paper Pumpkin and how to make these cards here:
(note – if you are reading this blog post in email, click here to view the video)
But here are a few close ups of the cards – each using only the supplies from the kit.  So you don't have to have anything else in your craft room, or with you, to make these variations!
Flower Card – Alternate
Instead of laying out those stickers on the front of the white cardstock, I layered them BEHIND to make a fun background pattern.  Add some extra stamping and tie on some of the thick twine and you get a fun country card.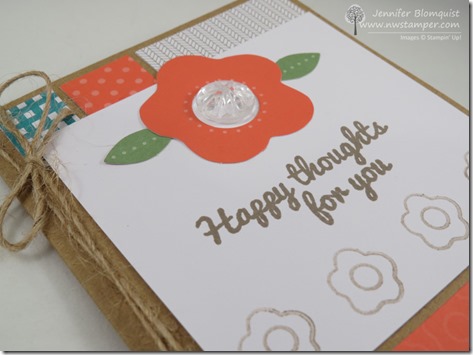 Banner Card – Alternative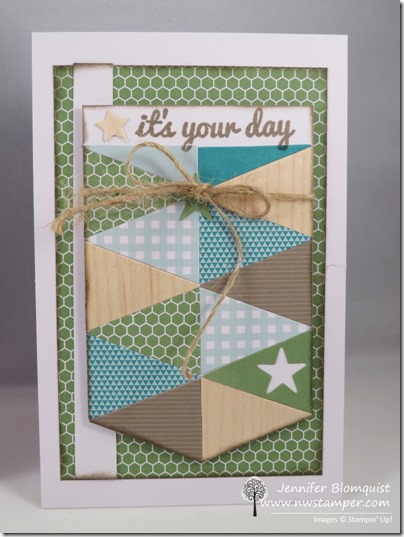 I also wanted to mix things up a bit with the banner card too.  So I started by squeezing all the triangles together which left me just enough space at the top for a sentiment!  And where did that green background paper come from you might ask?  Well, the kit included envelopes and envelope liners – so I just repurposed PART of an envelope liner!  You still can line the top of your envelope and still have enough to make this cute background.  And no extra white cardstock required either!  I just trimmed the bottom of one of the banner card bases.  Check out the video for all the exact measurements and cutting instructions.
And so for comparison… the card on the left is the one from the instructions in the kit and the card on the right is my alternate version:
And if you have received your kit but haven't put it together yet, you can follow along with my Paper Pumpkin June edition walkthrough video where I share tips for making the default cards in the kit… check it out:
(note – if you are reading this blog post in email, click here to view the video)
Ready to get started with Paper Pumpkin or give one as a gift?
You have 2 options to get these great kits sent direct to you AND have access to purchase past kits and refills (see all the kits available here)
Start a Monthly Subscription

No obligation, you can cancel at anytime, or just skip a month when you know you will be busy.  (

learn more

)

Purchase a Prepaid Subscription – Perfect for SAVING you or the perfect gift for someone else!

Prepay for a 1,3,6, or 12 month subscription and get EXTRA benefits! (

check them out

)
One Week Special!  Get a free gift from me with ANY prepaid subscription!
If you will purchase a subscription by June 30th you'll receive some nice rewards for doing so!
Purchase a 1 month subscription $19.95 plus tax receive a free sheet of dimensionals.
Purchase a 3 month subscription $59.85 plus tax receive a snail refill and dimensionals.
Purchase a 6 month subscription $113.70 plus tax receive a snail refill, dimensionals and liquid tombo glue (SAVE $1 a month on your pumpkin plus get all the freebies)
Purchase a 12 month subscription $215.40 plus tax receive a snail refill, dimensionals, liquid tombo glue and $21.00 in free product YOU CHOOSE the free product including hostess only items on page 178-181.  (BEST DEAL you save $2 a month on your pumpkin plus get all these freebies)
Pick up your prepaid subscription here and please use hostess code ZKGTCW6U