I know it is St. Patrick's Day and so I should be posting something green, but I finished this scrapbook page for my daughter and just had to share it with everyone for this week's Scrapbooking Sunday!  So, you can virtually pinch me but I hope you enjoy the ideas for this weeks layout.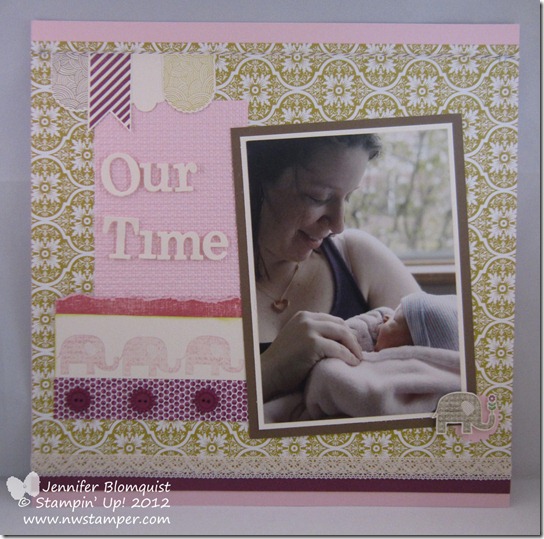 I've been trying to get through some of the recent backlog of photos I printed opportunistically and then never got scrapped. 

  This is one of the photos from right before we left the hospital after she was born.  I may not look my best, but it is one of the few pictures of I have of her and me and so I'll love it no matter how I look.
This whole layout actually started with me wanting to use the elephant from the Patterned Occasions stamp set exclusively available during Sale-a-Bration but to use it for a baby scrapbook page.  So I grabbed my Pink Pirouette marker and started coloring the elephant and making an elephant parade.
One thing I noticed is that the markers are so juicy and the pattern of the elephant is so intricate that extra ink gets caught in the spaces so it wasn't as crisp of an image.  But I didn't care and couldn't be bothered to try again using a post-it note to mask the stamp itself.
But then I tried again using a mix of colors for one more fun elephant accent.  This time I left the flower in the image and cut it all out.  I accented it with a 1 1/4" scallop circle punched out of Pink Pirouette cardstock.
Finally, I needed a little more something at the top of my page and my Hearts a Flutter stamp set and framelits was exactly what I needed.  I just adhered my baker's twine across the top of the page and tucked my banners under the twine where I wanted them.
I even like the Summer Starfruit designer paper from the Sale-a-Bration flyer (Sycamore Street designer paper) as my background even though initially I was not a fan at all of this pattern.

Don't Miss the Start of Sale-a-Bration Send Off Week! Giveaways and more!
Don't forget that this is the last week to get your free stamps and accessories as part of Sale-a-Bration.  To remind you (and me!) of the fun ideas and projects you can make with the different stamps and accessories, I'll be holding a send off celebration here on my blog all week capped off with a Sale-a-Bration Send Off Party on Friday.
All week you can get entries for prizes and drawings!
So, come back tomorrow when it all kicks off and you can start celebrating and winning with me!

To Order Stampin' Up! Products Anytime, click here!
Are you earning your Northwest Stamper Rewards?
Every order gets you closer to your FREE stamp set! Click here to learn more!
Patterned Occasions Baby Scrapbook Page Recipe:
Stamps: Patterned Occasions*, Hearts a Flutter
Ink: Soft Suede, Summer Starfruit, Rich Razzleberry, Markers: Pink Pirouette, Rich Razzleberry, Soft Suede, Gumball Green
Paper: Pink Pirouette, Rich Razzleberry, Soft Suede, Very Vanilla, Primrose Petals core'dinations cardstock, Sycamore Street designer paper *
Accessories: Sycamore Street ribbon & button pack*, Big Shot, Junior Timeless Type sizzlits, Hearts a Flutter framelits, Square Lattice embossing folder, Glue Dots, Stampin' Dimensionals, Crochet Lace trim, Early Espresso baker's twine, stapler, Sanding Block, 1 1/4" scallop circle punch
* item that is available for free with a $50 order through 3/22/2013
Alright, this is my second month with the crew of talented stampers and this month we are sharing project ideas using items from the new Spring catalog and Sale-a-Bration items.  Because who doesn't like fun ideas with new stuff?
Well, I have a couple quick projects for you and I hope they inspire some new ideas for you.  First up is a little card… I call it a calling card because it is actually significantly smaller than a standard card front.  I made these to send with some spring catalogs and SAB catalogs I was mailing out.  Something quick, cute, and let you see new stuff in action.
I highlighted two of my favorites from the catalog – the Honeycomb embossing folder and the Natural Trim ribbon.  I love how deeply the honeycomb embossing folder creases the paper and it actually looks good on both sides of the paper.
And don't let the ribbon fool you.  It has that rough, almost burlap-like look when you see it in pictures but it is SO SOFT when you feel it in person.  I normally have a hard time using up all the ribbon on a spool but I have a feeling this is one I'll actually be buying extra of before the catalog is over.
Anyway, I thought that my honeycomb needed a bee, so I grabbed the new Collage Curious stamp set and found the bee was a perfect fit.  Cute, huh?
And if you haven't seen that "Hello" sentiment before….check out your copy of the Sale-a-Bration flyer… it is the free Pretty Petites stamp set and the matching free Petite Curly Label punch.  LOVE!!
Alright, how about one more share for you?  You can't say no, huh?
This card makes me so thankful for the Stampin' Success magazine for demonstrators (an awesome perk when you join the Stampin' Up! family!)  They have project ideas and samples for inspiration and CASE-ing and this color combo and initial layout idea came from a past issue.  It used a different stamp set and I had to tweak up the embellishments because I was so excited to use the new Sycamore St ribbon and button pack (also coming up free as part of Sale-a-Bration).  This is my second project with these buttons and ribbon (you can check out my scrapbook page from a few posts ago to see my first project).
So, I hope you enjoyed my projects this month and the blog hop we've put together for you!
I'm off to check in to the Leadership convention in Orlando today and hope to share even more inspiration with you over the next few days.  But until then, check out the rest of the blogs on the hop for more great ideas.
Blog Hop Participants:

To Order Stampin' Up! Products Anytime, click here!
Need a Spring Catalog or Sale-a-Bration flyer?
shoot me an email to jennifer@nwstamper.com with your contact info and I'll make sure one will be making its way to your mailbox shortly!
Are you earning your Northwest Stamper Rewards?
Every order gets you closer to your FREE stamp set!  Click here to learn more!