The stamping world has had Photopolymer stamps for quite a while and I used to try to play with my "completely clear" stamps.  I love the idea that I could see totally through the stamp so that I knew precisely where I was stamping.  However, I discovered that not all clear stamps are created equal.  I have some that have turned yellow on me (even without me using them… gasp! I know, right? how can you have stamps that never get inky?
) and I have some that frustrated me because I couldn't get a crisp image no matter what I tried.
Well, Stampin' Up! held off while they tried to figure out a formula for making these stamps without some of these issues.  Then they started coming out with their own designs.  So, I decided to give them a shot and then thought I'd share what I did.
I grabbed the Designer Typeset stamp set, which was the first set they came out with.  See, this is what it looks like when you get it…. no box, just a ton of cute little clear stamps in a plastic sleeve.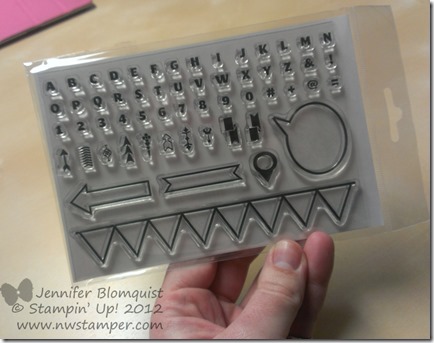 And out of the sleeve….
Then I set to work and created this as one of my first cards:
I know, it is totally simple, but it gave me a chance to experiment and learn a few things… like:
Don't be afraid to bend your stamps!
If they can bend and stay on the block, then it is perfectly fine to stamp them that way.  If they won't stay on the block, you've bent it too far.
Be prepared and ok that your stamped lines aren't going to be super thin
When you push on the stamp to transfer your ink to paper, the photopolymer compresses and stretches a little, so you get slightly fatter lines than you maybe expected.
If you have the letters, lay them out on your paper for placement – THEN push the block down on them to ink up.
So in this case, I stamped the banners first.  Then I laid out my letters in exactly the spot I wanted them to be on my banner. 
THEN I pressed my clear block down on top of the letters.   That way I could ink them up all at the same time and stamp knowing they would go exactly where I wanted them to go!
The juicier the ink pad the better!
Yes I know, it goes without saying… but still.  I did see slight differences when I used my old style ink pads with my new ink pads.
If you want to see more tips, check out this video I made all about the Photopolymer stamps:
If you can't see the video, check out the direct link here.
So, if you think it is something fun to try and play with, Stampin' Up! just came out with their 5th photopolymer stamp set – Wanderlust.  But here is the complete list:
I still love my rubber stamps… but I definitely think completely clear stamps have a place in my stamp room too!