A week ago, I held my Sale-a-Bration Celebration – my customer appreciation event to thank everyone for supporting me and stamping with me. Because without you all, my crafting and business would be pretty sad and boring!
I was inspired by the idea of a rhinestone gift topper by Dawn Snowangel and so I decided these would be perfect gifts for everyone who earned an invite to my event:
Tips for making this project:
The Top Note Die makes a perfect sized topper for the top of Pearls and Rhinestone packages! Score it the long way to make it easy to fold.
Adhere your Top Note with Fast Fuse or Sticky Strip straight to your package.
Layer the Notetag punch and the Scallop Tag Topper punch for a fun gift tag.
The "You're a Gem" sentiment from One Tag Fits All is perfect to go with the rhinestones!
Get Golden! Use the gold washi tape (watercolor wonder washi), gold sequin trim, and Gold Foil paper for the gem to really coordinate everything.
When stamping on Gold Foil, use Stazon to make sure it doesn't smear later!
Don't Miss Them! These items from the project are retiring!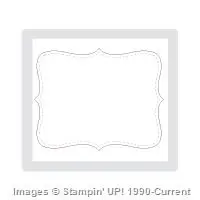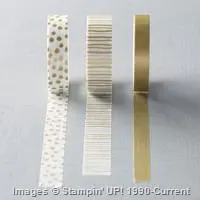 Want to see what we were up to at the event?
They made two make & take projects – a butterfly card
And a Sheltering Tree card (Don't worry, I'll be posting the cards close up this week!)
They played "Guess the Retiring Stamps" game (see all the retiring stamps here)
And studied for the "Guess the Colors" game
Some people didn't study and just made it up as they went along
And of course there were goodies and lots of fun for everyone! And those folks who couldn't join us because they lived too far away got their gifts and projects mailed to them because they still deserved the love too!
Oh, and I had WINNERS!
Guess the Retiring Stamps Game – Kelsey was the big winner by getting all 10 of her guesses right! Maybe she has some secret inside line to Stampin' Up….
Guess the Colors Game – Trisha & Saundra (not using the catalog) tied with 10 right! Shannon (using the catalog) got 16 right!
And if you are curious, here are all the colors they had to guess!
I did have fancy sheets all printed out and ready to take with me, but I totally left them on the floor of my craft room, so enjoy our fancy grid paper sheets.
Project Supplies Used:
Easy shopping anytime! Click the images below to see the item in the online store.