Have you seen the chalk inks and been curious about them but haven't tried them yet? I was feeling that ways and so I decided to start playing when I created this card for my Stamp Club recently. We played with some of the fun stuff from the Occasions Catalog including Chalkboard paper and the Chalk inks – 2 of which are on sale as part of the weekly deals this week!
It is a great card to play with all those specialty items that you may not have tried out before including the foil vellum, chalk ink, chalkboard paper, chalk pen, scalloped tag topper, and those pretty Something Borrowed embellishments!
Featured Retiring Products:
Get them before they are gone by the end of the month!
Tips for making this card:
One of my favorite things to share about this card is that the ink on the pink punched out flower and the "for you" sentiment are THE SAME! Can you believe it? Both are the Rose Coral chalk ink.
When you stamp on Chalkboard paper – you want to stamp on the velvety side! This is the coated side and it will help inks sit on the surface.
That said, you want to use Chalk or Craft/thick pigment inks when stamping on Chalkboard paper. The dye inks (all the classic Stampin' Up inks) will just fade into the background because they do not have enough pigment to sit on top of the paper and form a contrast.
Use the Chalk Marker to create some accent lines or to draw on your Chalkboard paper… they turn out bright white and great!
Adhere a Something Borrowed embellishment to the middle of your flower with a glue dot for a cute accent!
When adhering your Silver Foiled Vellum to your paper, I recommend a 2-way glue pen! Liquid glue tends to mail the foil wrinkle up and glue dots will show bumps through the foil.
Sadly, though the Flower Medallion punch is carrying over, the matching Petal Potpourri stamp is not! I love this stamp set and all its options. For the next week, it is available as a bundle at a 15% discount! I know I'm not getting rid of mine so I recommend you grab yours now.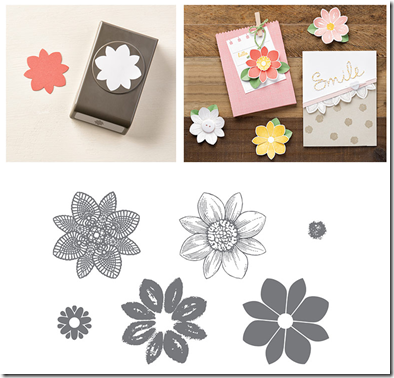 New Weekly Deals are Here! Last chance to score some of these Occasions Catalog items at 25% off!
Here are a few of my favorite projects using some of the items on sale this week:
One Tag Fits All Card with Hello Honey Quilted Ribbon blog post
Sheltering Tree with Sweet Dream Buttons blog post
Great class by mail using these washi sheets! I have ONE KIT AVAILABLE as well as you can get the instructions by mail anytime HERE
Project Supplies Used: