My word!  Its been a whirlwind of a week starting with me desperately trying to get swaps made and everything packed and ready to go for convention this year.  But I made it and flew into Salt Lake City on Tuesday in anticipation of a great week…and I haven't been disappointed! 
Today was the first day of convention and boy was it a doozy!  Lots of sneak peeks of upcoming products, freebies, amazing ideas, and fab projects.  I've been posting pictures on my facebook page when I could so if you want to see a few more pictures, check it out.  But I couldn't take pictures of a lot of the details I learned so I wanted to share a few pictures and more details!  Enjoy!
Ok, can I have a personal toot for a minute? :)  Each year they invite people who met certain milestones or achievements to walk across the stage.  I am still working towards that, but this year they added 2 more marches – first time attendees and anyone who recruited in the last year.  Well, Bethani, my downline, got to walk for first time attendee and I got to walk for recruiting!  Yay!
Next we had a HUGE sneak peek at the upcoming Holiday Mini that launches in September.  No joke, I am in so much trouble with how much I want out of it.  There are new ribbons (can you say velvet and quilted satin?), new punches including a stocking punch that has a matching stamp set!!, fun holiday dies and embellishments (like mini jingle bells that I have no idea what I'm going to do with yet but I have to get), more adorable fabric (I'm just saying check out my next picture), of course new papers and stamps, and a ton more.  Then they showed us this bag that we could buy in Memento Mall that looks like this: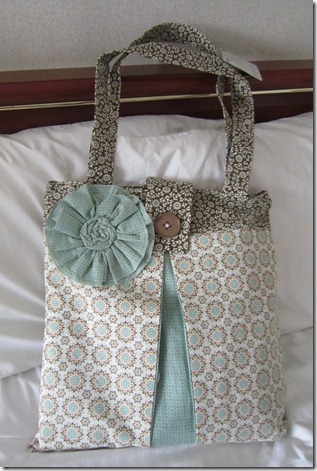 Know what it's for?  AAAAHHHHH!  I'm so excited!!!  It's made to fit the new Simply Scored tool!  That's right, a super awesome scoring tool.  It takes the best features of what's out there and adds some, like besides giving you lines every 1/8", you get a metal tipped ergo stylus, multiple plastic arrows to mark which score lines you are using for a given project, a storage compartment, multiple ruled edges, etc.  I'm so stoked!
Ok, moving on.  At lunch, I had another amazing experience where when we entered the Gathering Place to get our lunches, we got picked for a You Crew experience.  You Crew is their name for randomly selecting people to have one of a variety of one of a kind experiences and in our case, we got a special table with glasses, plates, lemonade, a staffer who made sure we were well taken care of.  Pretty fun!
  At the end of lunch, we saw that they had put out a special dessert.  Cookies…but not just any cookies, check out the designs:
Yeah, yeah you say, they have designs.  But these are special designs.  They are Stampin' Up! cookie stamp designs!  Yes, as in a stamp that can make different impressed images on cookie dough.  How fun is that.  Oh, and the shortbread recipe that comes with it, if it is the same one they used for these cookies, is pretty darn yummy.  🙂
Finally we finished our day with make & takes, which I still need to finish so I can share with you, and one more session where we saw some great ideas for quick, easy, and inexpensive projects.  Like did you know you can get a package of quick accent stickers, 2 packages of notecards, and make 40 cards in no time flat?  And they are simple and cute too. 
I know I don't have many project sample pictures today, but don't worry.  I'll have more of the projects and products I can photograph and share posting over the next few days.  And don't forget to stop by my facebook page to see more photos and updates when I can.

Click here to shop online 24/7 and start earning your NW Stamper rewards!