Today's post is going to be super short because I'm racing around getting the last few things done for my first Northwest Crafty Escape Weekend! Today is set up day and then everyone shows up to kick things off tonight! So, if you want to see some of the fun, join me over on my Northwest Stamper Facebook Page, as I'll be sharing as I go throughout the weekend!
In the meantime, here is a fun card to share with you today!
Vivid Vases is such a fun stamp to color in, whether you are using your Blender Pen, Aqua Pen, Stampin' Write markers, or your Blendabilities (if you still have yours like I do!) I actually took a picture of using this stamp set with each type of coloring method but turns out is it just blurry enough to not be useful, so I'll do another comparison for you and share it soon!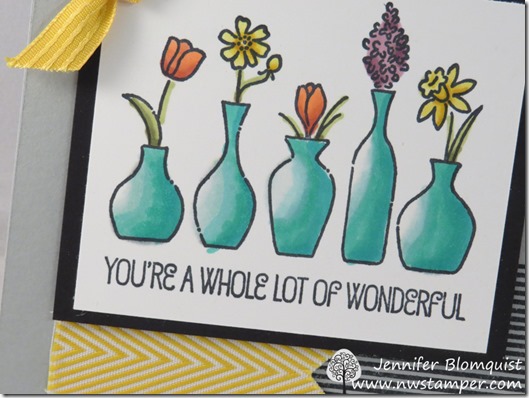 I colored my vases leaving a little bit of white on one side so that it looked shiney a little bit more "real life" (ish… its not like you've be confused that these are real
) but it is just something fun to try.
And you see that stitched ribbon on the top of the card? It is Hello Honey, which was retired on June 1st, but they have new Stitched Satin ribbons in different colors and oh my word, I just adore them! The new colors are so pretty that I think we are going to be fast friends!
See? Aren't they pretty?
Well, I'm off to finish getting ready! See you on Facebook as the event kicks off!
Project Supplies Used: