I've been meaning to share this photo for a while. And really, I just want to share because I'm so happy.. (tickled pink? hee hee) to have finally used on of my Paper Pumpkin kits that I never knew what to do with when I got it. And it is all thanks to my mom and the fact that she had a birthday!
So, I wasn't able to celebrate with my mom on her actual birthday this year, so when she came to visit a few days later, I wanted to put together some kind of mini celebration. Unfortunately, I completely spaced on that plan until the morning she was headed to visit and so I only had a couple hours to pull something together. I have a problem with being a complete last minute nelly on everything! Thankfully I had cake mix and pink frosting in my cupboard so that when into the oven ASAP, but I thought it was too plain when it was done – even with candles in it.
Then suddenly I remembered last July's Paper Pumpkin kit and I knew what to do!
If you didn't get July's paper pumpkin kit, this is what it looked like:
Basically it made these banners on long toothpicks… and aside from a scrapbook page, I wasn't sure what I was going to do with them. But it was super fast to make because I just had to stamp the background patterns onto each pennant and then adhere the letters I wanted. And, ta-da! I was done.
So, now I'm glad I had it in my stash for a perfect, no-thinking, last minute decoration. And I love the patterned stamps that were in this kit. That is what I used for some of the layers (those little pieces under the "Wahoo") in my Craft Wars: Paper Pumpkin edition at Leadership: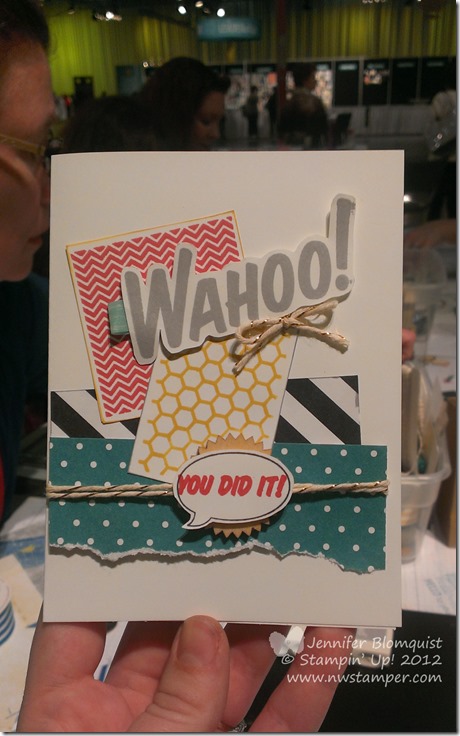 See, love versatile stamps! If you are curious about the Craft Wars challenge at Leadership, check out the details of how it worked and what we had to play with!
Did you know?
Stampin' Up has some of the past Paper Pumpkin kits available to purchase as a full kit or as refills? See all available past kits here.
And there are also changes coming to the Paper Pumpkin program as well!
New subscribers no longer will get the "Welcome Kit" but instead will get a thin clear block and the same kit that is going out to everyone the month you sign up! So you don't miss a thing when you start!
Now you can purchase gift subscriptions to give to family and friends for Paper Pumpkin.
Want a prepaid subscription for yourself to save some money? Prepay for up to 12 months at a time and get a discount on your monthly rate! PLUS, prepaid subscriptions count towards hostess benefits on personal or workshop orders!
Now to impatiently wait to see what this month's box has in store for me.
Happy Friday and have a wonderful weekend!

May Online Stamp Club Hostess Code – ZUBHUEK6