Jeepers!  Thanks to extremely flaky internet access at the hotel, I wasn't able to get these blog posts written up and posted in the evenings of Convention.  But I wanted to post my summaries of the last two days at convention since I know a lot of you out there were interested in seeing what went on.  For those of you interested in the Display Boards – for the sake of space, I'll be posting them tomorrow in a separate post.  But here is the final run down of a great convention:
Inspiring Stamping Presentations:
There were so many great ideas this year.  I'm definitely going to use some in my classes over the next few months (scented embossing powder anyone?!) but here are a few highlights.
***Did you notice the Keep Calm hostess set???  It is coming back shortly!!  Shelli couldn't promise that they wouldn't have to pull it in the future, so if you love it, get it now! ***
New Momento Mall Items!!
I figure that you can never go to Momento Mall too often.
  There is always something cute to look at, a gift to buy, or your 2nd Day surprise!  (Stamping themed cookie press stamps, garden flags, and a My Digital Studio 2 sampler)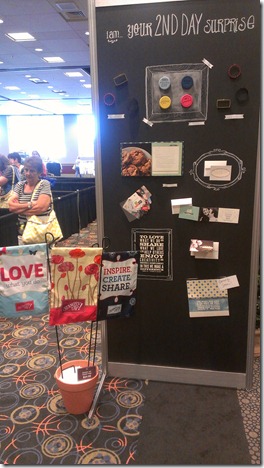 Hispanic Night and Prizes!
Friday night they hold Hispanic Night, which is a great event to learn about the differences and desires of the Hispanic market.  Its actually super interesting to learn the cultural differences that I didn't know about (like when someone would send out a card).  And we were given the Quinciera stamp set to use for our make and take!!!!  I LOVE this stamp set even though I don't know anyone who is having a Quinciera anytime soon.  But so pretty!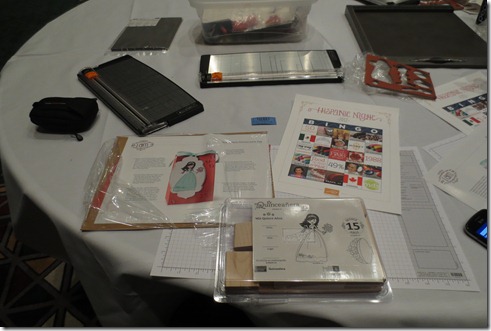 And I won a prize during Bingo! Christmas stamp set, Raspberry Ripple stitched satin ribbon, and Real Red glimmer paper!
Great Classes:
I went to lots of great classes.  This sample was from a class by Tami White and Ronda Wade.  They talked about what has helped them run successful businesses and it was great to hear different ideas and strategies from these great women.
Socializing and Relaxing at Lunchtime:
And did I mention Free Stamps!!!
During lunch on the last day, we received our convention incentive stamp set (provided you attended you classes and got the "secret word".  Then during closing session, we were given TWO more stamp sets!!  Not to bad, huh?
Other Announcements:
There were also a number of announcements made including the following:
–  The grand vacation is a Western Caribbean cruise on Royal Caribbean
–  The getaway vacation is to San Diego
–  Stampin' Up! will be donating $3 (instead of $1) from each sale of the stamp set "Moving Forward" to the Ronald McDonald stamp set
–  and an August special when you sign up to join Stampin' Up!  If you are not a demonstrator but are interested in learning more about this program, let me know and I'll fill you in on all the details!
So there you have it!  Convention is over but it was such an awesome trip!  I hope you can join me next year for Stampin' Up!'s 25th anniversary.  I'd love to have you join my team and come celebrate with us next year!  Curious?  You can learn more about what it is like to join Stampin' Up! and my team.

To Order Stampin' Up! Products Anytime, click here!
Are you earning your Northwest Stamper Rewards? Every order gets you closer to your FREE stamp set! Click here to learn more!