Last friday I held a holiday class around gift tags and gift card holders.  I have to admit, while trying to get project ideas, I got so inspired that I had way to many projects I wanted to do with the class.  I managed to reign it in some, but I still ended up with a ton of little projects for everyone to do.  Thankfully no one was in a rush to get in and out and so we had a great time socializing and crafting. 
So, if you are looking for some ideas for some fun ways to gift a gift card or easily make a ton of gift tags, here are what we made and hopefully they will give you ideas for your own creations.
Gift Card Holders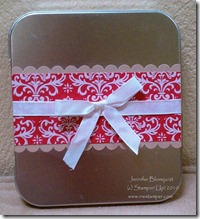 Ok, so the first thing we did was decorate one of the skinny tins currently found in the Clearance Rack.  This was intended as a container to hold the gift tags we were going to be making, but it also works well as a gift container to use during the holidays.  I did use some retired paper from last year's holiday mini, but I just love how it looks on the front of the tin.
We also added a piece of designer series paper to the inside of the tin to give it a little more finished of a look.
Tip: when adhering your embellishments to the front of the tin, use Sticky Strip to ensure your decorations stay put long term.
Next we created two different gift card holders. 
The first one was a simple folded pouch with a belly band for decoration.  The base paper is 3.5" x 9.75" and is scored at 3" and 7".  I used the 3/4" circle punch to punch a half circle out of one end and then used sticky strip to adhere that flap down to the middle section of the base.  Wrap a piece of DSP around the folded up gift card holder and adhere the ends of the DSP together using Snail adhesive.  We decorated this holder using the Tags Til Christmas stamp set and the Decorative Label punch (currently on sale as a Handmade Holiday bundle for 20% off) and some adhesive back pearls.
Tip:  Did you realized that you can use the "Dec 25th" stamp from Tags Til Christmas and then cover up the date with the Modern Label punch?  In this case, we still used a Christmas sentiment, but you could make it into anything!  Got to love versatility!
For our last gift card holder, we made what I call the "booklet gift card holder".  This pattern has been seen all over the internet and you'll probably see a few different measurements out there.  I found that I liked the following measurements the best:
– Cut your base paper to be 4 1/4" x 11.  
– Score at 3", 5.5", and 8"
Once you have your paper scored, fold it into a 'W' shape so that there is a shorter peak on the inside of your booklet.  Use your word window punch to cut out two "half-ovals" across the top of that shorter peak and then use the 3/4" circle punch to punch out a half circle in the middle.  Then, embellish the front, back, and insides to your hearts content using ribbon or fabric to tie your booklet closed.  For this project, we used the Candy Cane DSP and A Cute Christmas stamp set, stamping both on the outside and inside of the holder.  I also used a white gel pen to add the little white dots to the Bashful Blue scalloped circle on the front of the booklet.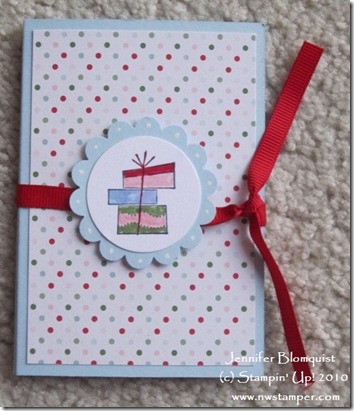 Finally, after all that, we made some gift tags as well.  These were made almost entirely with the Tags Til Christmas stamp set with one tag using the Sweet Season set just for fun. 

Some things you may not be able to see well in the picture:
  -  The ornament tag is actually a tag that flips open.  We folded over a piece of cardstock before stamping our ornament image. Then we punched out the ornament image making sure to have the crease of the folded paper showing in the opening of the punch (so that we were keeping the crease intact). 
  -  We also used a two-way glue pen to add Dazzling Diamonds to the front of the ornament.
  -  The "do not open until christmas" tag was created by first stamping the image on a piece of paper and then punching it out using the 1 1/4" square punch.  You want to make sure the text is aligned at the bottom of your square punch.  Then we punched out a scallop square piece using scrap designer series paper and folded that scalloped square in half.  Finally adhere that folded scallop square to the top of your 1 1/4" square punch out and add some hemp thread to make it a hanger.
Well, I hope that gave you at least one new idea.  I'd love to have you join me at one of my classes in person, but if you are too far away, please come visit me at my blog again as I'll be sharing the future projects here as well.  Until next time… Happy Stamping!