******************************
REMINDER – TODAY is the LAST DAY to take advantage of the 50% off your first 2 months of Paper Pumpkin AND get the August project kit.  I've actually seen this one and think it is a super cute kit!  But you have to be signed up by tonight to get it.
Try it out using the promo code HALFOFF
Then join us over on Facebook at the Paper Pumpkin Fun group to share what you make!
******************************
Sometimes I want to craft but I don't want to have to think…I want to just be able to create and know it will come together and look cute.  Last night was one of those nights. I've spent all weekend with out of town family, and don't get me wrong, it's been lots of fun… but it also means in addition to all the adults we have 5 children running around and attempting to play together from the ages of 18 months to 7 years.  So it gets a little crazy to say the least.  I got home and just wanted to relax and I realized I hadn't finished my July Paper Pumpkin yet, so I decided to play!
This was the original design that was shown on the package… so you could make 8 cards that all looked like this: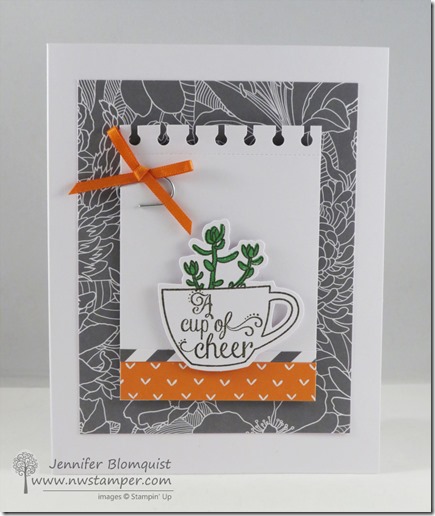 But then I decided to start mixing things up a bit and changing up the layout just a little
Then I though, how would it look if I turned that patterned paper on it's side and ran it across the card front.  Kinda cute, huh?
Now, one thing I ran into when I turned my paper on it's side is that I didn't have an orange paper or sticker that was long enough to go all the way across the card front.  So, I did a little hack!  Take one of the orange strips and cut it in half!  Line up each half to the outside edges of the card base.  There will be a little bit of a gap in the middle, so just cover it up with the notepad looking paper!  Easy way to hide the gap!
I also started experimenting with that happens when you take off the perforated tabs on the notepad paper.  I liked it off, but then thought it made an interesting texture when you glue it back down OVER the white cardstock.  just a little bit of subtle texture and something fun to look at.
Then I started to get a little crazier and start moving things to the edges and turning them on their sides…
Or even just turn the whole card on it's side!
Those diagonal stripe strips in the corners are actually one of the grey and white diagonal stripe stickers that I cut in half longways.  Then I laid them across the corners diagonally to make it look a little like washi tape and trimmed the edge!
Then I had to do one more… this time a fancy fold card!
The basic layout on the front is pretty simple and the same as one of the first cards but this time, I folded back the front flap of the card base to make a Z Fold card!  See what I mean?
I would have gotten a little more crazy with it but I was just too dang tired.  And I thought this looked cute as is.
Finally, I put together the envelopes and don't ask me why, but this was the hardest part for me!  It took me 3 tries to get the envelopes put together the "right" way!  Though I still think I like the side opening version.
Fun right?
Well if you would love to get your own kit in the mail, don't forget that you can get your first two months for only $9.95 and NO OBLIGATION!
Give it a try and use the code HALFOFF to get 2 months for only $9.95/month!
Sign up for your trial here
You can skip any month or cancel anytime.  But you'll be having fun and you get a total deal each month any way.  Plus, once you are a subscriber, you can pick up past kits or refills for a great price.  For example, you can get a refill for this kit for only $8!
July Thanks a Latte Paper Pumpkin Kit Refill – Available Online