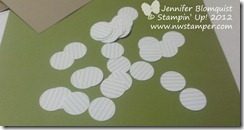 After creating my Everything Eleanor swap cards for convention (this card), I was left with a bunch of circles that I punched out from the middle of the scallop circle image from the stamp set.  I think it is meant for journalling but since I had been trying to make a wreath, I didn't need them on the card.  But I though they had to be useful for something so I saved them, even though I had no idea what to do with them.
Well, I started laying them out to make a polka dot background for a scrapbook page or card but wasn't loving what I was creating so I started overlapping them and realized that I liked the fun effect of getting all the lines to match up so it looked like you had a continuous pattern even though you were using a bunch of different pieces.  So, I started adhering them together into strips to use as a scallop border.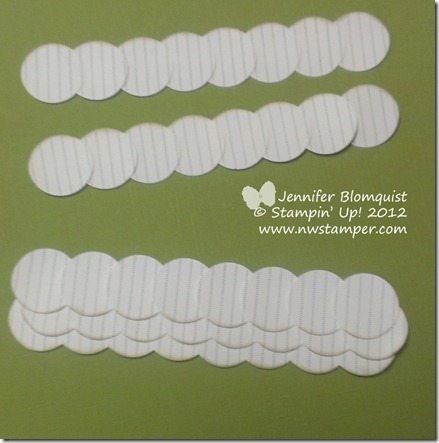 This could make a cute scallop trim for a card or scrapbook page depending on how many circles you adhere together.  In my case, I sponged the edge of each row and layered them together to be accents for my photo on a scrapbook page.
I tried to line up my rows so that the stamped lines matched up and it looked kind of like you had one continuous pattern.  As you can see, I didn't always get it exactly right but I was more focused on using up my scraps than making sure everything was perfect! 🙂
I like how in the end it is a cool fluffy effect without looking too frilly or girly for a picture of my son from this past July.
I also tried to keep the page simple by only using 2 colors of cardstock, 2 colors of ink, 2 extra embellishments (Faceted buttons and Early Espresso Baker's Twine), and one stamp set – Everything Eleanor.
And speaking of my son… after I had just finished the page and had gone upstairs to feed the baby, my son came up a few minutes later looking like this:
After freaking out trying to figure out what he had eaten, he told me he had "colored with a marker!"  Yup, that same marker I had used to journal on that scrapbook page!  I got him to bring me the marker and the caps (that took 2 different requests).  But then my husband checked on where he had used the marker and told me
"He colored all over some paper on the table and the table"  **heart attack again!**
I asked what had happened to the scrapbook page and Scott said he hadn't seen the scrapbook page.  So I raced downstairs and saw this:
I am very thankful to report that while he colored on much of my table, that he managed to miss the scrapbook page entirely!  Whew!
So there you have it, hopefully that gives you another idea for what you can do with your scraps.  Leave me a comment and let me know what you think of this idea!

To Order Stampin' Up! Products Anytime, click here!
Check out the 2012 Holiday Catalog in PDF form
Are you earning your Northwest Stamper Rewards? Every order gets you closer to your FREE stamp set! Click here to learn more!
Everything Eleanor 12×12 Scrapbook Page Recipe
Stamps: Everything Eleanor
Ink: Lucky Limeade, Crumb Cake
Paper: Lucky Limeade, Crumb Cake, World's Greatest designer series paper
Accessories: 1 1/4″ Circle punch, Paper Snips, Sponge Dauber, Early Espresso bakers twine, Faceted Buttons, Glue Dots, Crystal Effects