Whew! I'm back to the land of the living!
I went to bed last Thursday night thinking of all my plans of what I was going to finish and get caught up on on Friday (aka Valentine's Day). Instead, I woke up in the early hours of the morning with a terrible stomach bug! So, instead I spent the day in bed with a brief period laying on the couch. Finally I am back to functional again (though now my husband has gotten taken out) and I'm trying to get caught back up.
Today's card was the perfect share today because of the number of people I heard of that were sick recently as well as a sweet friend who just had to suffer a devastating loss. So, for all of them and for you, here is a card to send a little sunshine your way.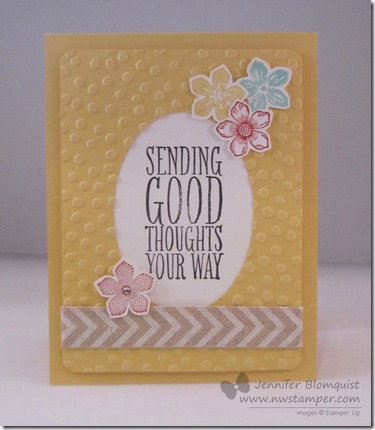 This card was inspired by a card by Natasha Zandbergen that I had found on Pinterest and of course had to give it my own flair! So, I loved the idea of cutting out the oval shape from the Oval Framelits and stamping my sentiment from the super fabulous Perfect Pennants stamp set for the focal piece…. and then I started getting a little creative.
First – I embossed my front layer with the Decorative Dots embossing folder from the Sale-a-Bration brochure. Then I decided to be a little odd and I sanded the the dots that were embossed. It is a really subtle thing, but I wanted to soften the dots and give them a bit of texture. See, when you sand your embossed elements, even if you don't use core-dinations cardstock, it gives the raised part a bit of a velvety look.
Then, I wanted to play with the new Petite Petals stamp set. So I got to stamping.
Psst – here is a little secret. If you look at those flowers and wonder why they aren't punched out very crisply, that is because I was borrowing this stamp set from my mom and she had forgotten to loan me the punch. I wanted to have the flowers cut out, so I hand cut them. They look much nicer when you use the punch!
It still needed something though, and I played with all different options for breaking the So Saffron yellow color up along the bottom of the card and ended up settling on the Natural Chevron Trim as that extra piece.
Plus I thought that the chevron looked like arrows for a conveyor belt shuttling along those good thoughts to the card recipient.
I know totally dorky… but hi! *waving* I'm a dork! hee hee
So, hope you are healthy and having a wonderful weekend at your home! Until next time!

Virtual Stamp Club Hostess Code – BNDDMDVU
Use this code to get free exclusive tutorials & project kit! Learn more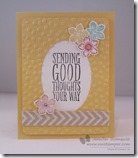 Stampin' Up! Supplies Used
Stamps – Perfect Pennants, Petite Petals
Ink – Basic Black, Raspberry Ripple, So Saffron, Soft Sky
Paper – Whisper White, So Saffron
Accessories – Big Shot, Oval Framelits, Decorative Dots embossing folder (FREE with a $50 order) Petite Petals punch, Naturals Chevron ribbon, Sanding Block, Rhinestones