I have 2 promotions and announcements to share with you today, so get your scroll finger ready… 'cause here we go!
It's Here! The Stampin' Trimmer is Here!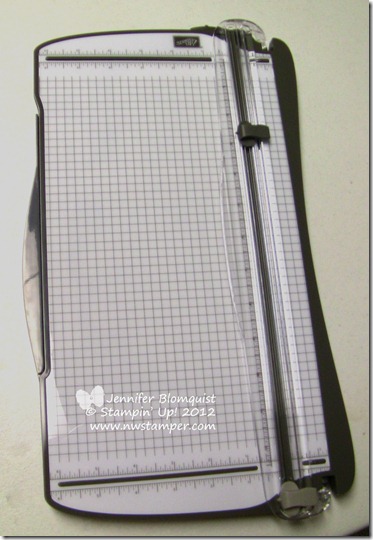 So, I have been SUPER excited that the Stampin' Trimmer is finally here!  Like counting down the days until it is available, excited.
  Does that make me a crafting nerd that I get so excited about new tools?
Anyway, it is finally available NOW!  Can I get a woo hoo!!?
If you are still on the fence and want to see a little more about it (and why I'm so goofy for it), you can check out my review
My Write up about the Stampin' Trimmer
Video Review of the Stampin' Trimmer
Or just get yours now from the online store!
Get FREE Ink!  Check out these Ink-redible Promotions
You may have heard the rumors going around about the promotions coming out in November but the details have finally been posted and so I'm making sure you have the official scoop!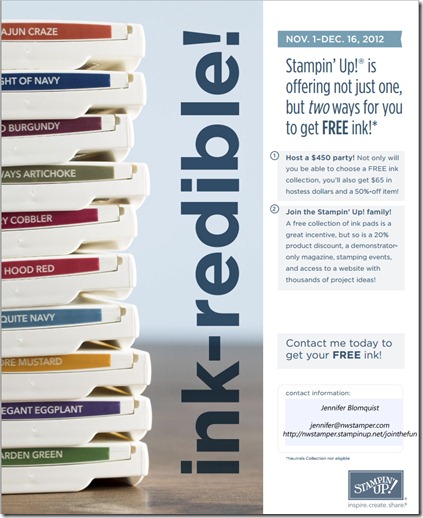 check out the flyer in PDF form here
From now through December 16th…
You have 2 different ways to get FREE ink pads.
That is 10 Full Sized Pads in one of the following color families:  Brights, Subtles, or Regals.
Wanna know the fun part?  If you hosted a party and earned your free ink pads, you would have 1 set of pads.  Then after you held your party, you decided to get the starter kit and join the Stampin' Up! family… you would get a second set of ink pads!  Not to shabby, huh?
Just trying to help you figure out how to get the most free stuff you can.
Even if you are not local to me,
I can still help you host a party and earn your free ink!
If you have questions or are ready to take advantage of any part of this promotion, let me know!  You can email me at jennifer@nwstamper.com, message me on Facebook, or give me a call!
Want to learn more about becoming a member of my team?
Check out more details here – http://www.nwstamper.com/join-my-team/

To Order Stampin' Up! Products Anytime, click here!
Are you earning your Northwest Stamper Rewards? Every order gets you closer to your FREE stamp set! Click here to learn more!
Today my family catches a train back to Seattle from Portland.  We've had a great trip and now I have a day and a half and then its off to Salt Lake City!  That's right, it's Stampin' Up! Convention Week!
I will have posts scheduled to go up this week while I'm away but as I have time, I'll try to share pictures here on my blog.  If you are interested in more up-to-the-minute details from convention, make sure you are a fan of my Facebook page as I'll be able to post more frequently there as I see or hear exciting stuff!
In the meantime, I thought it would be fun to have some special promotions while I'm gone.  So, if you want to take advantage of the Convention Week excitement – here are some deals for you:
1.  FREE INK PAD – Place an order through me (via email or phone) that is over $50 before shipping and tax and receive a new firm-foam ink pad of your choice for free!  Email me at jennifer@nwstamper.com to let me know what pad you want!
2.  WIN A $25 GIFT CERTIFICATE – Everyone who places any order this week – whether online, by email, or phone – will be entered into a drawing for a $25 gift certificate!  I'll draw on Monday July 23rd; so check out the amazing inspiration from Convention and then pick your favorites for free!
I'm also hoping there will be a new demonstrator sign-up promotion come out during convention, so if you have been thinking about joining Stampin' Up!, let me know and I can keep you posted as I hear of anything coming down the pipe while I'm at convention.
I am SO EXCITED and can't wait to see all the amazing ideas and inspiration in Salt Lake and then share them will all of you.  This is what we saw in the last couple of years… who knows what we will see this year!

To Order Stampin' Up! Products Anytime, click here!
Are you earning your Northwest Stamper Rewards? Every order gets you closer to your FREE stamp set! Click here to learn more!