This is why I have a hard time giving up my old patterned papers.  Because that pack of paper that you thought totally wasn't your style and you have no idea how you would use it…. well, along comes a scrapbook layout that suddenly that paper is perfect for and you are so glad you didn't chuck it in the recycle bin!  And today that paper is Big Top Birthday from Stampin' Up!
Everytime we go to Fred Meyer, Nicholas *has* to ride the Fred Meyer kiddie ride truck.  We walk in the door and as we walk by the area with the truck he notices it and asks if I have a quarter so we can ride it.  Sometimes I do, and sometimes I don't, but either way we invariably stop so he can at least sit on the truck and pretend to drive it.
And of course, now that Caitlin is getting older, she has to get in on the action as well and wants her turn!  So, I had to snap a picture a couple months back of each of them in the truck and create a layout just for this ride.
I had no idea what I wanted to do, so I started shuffling through my (I'll admit) large amounts of misc patterned papers and cardstock and the bold primary colors in the Big Top Birthday caught my eye.  I had a hard time getting myself to use the paper when I was working on cards because it was so bold, but when used as an accent for a scrapbook page – suddenly it was a whole new paper!
But, one of the best things about this layout was creating my embellishments from random supplies around my craft room.  I especially like how this tag turned out:
It's a simple rectangle of the Natural Composition designer paper that I snipped off two corners to make the tag shape.  Then I used on of my beloved Jumbo Eyelets (why did these have to be retired!?!) to give me a grommet for my Stitched Pacific Point Grosgrain ribbon.  Then I just used a little bit of linen thread to tie the ends of the ribbon together and added some matching cardstock trim to the bottom of the tag.  Add some dots with the White Gel Pen and some journaling and there you go!
I have to admit, I LOVE how this layout turned out and its kind of nice to do a layout that doesn't involve pinks and flowers.


To Order Stampin' Up! Products Anytime, click here!
Supples Used
Stamps – Rough Type Alphabet (retired)
Paper – Whisper White, Basic Black, Pacific Point, Daffodil Delight, Going Grey cs (retired), Natural Composition designer paper, Big Top Birthday designer paper (retired)
Ink – Basic Black, Pacific Point, Real Red
Accessories – Large Star punch (retired), Small Star punch (retired), 2-3/8" Scallop circle punch, 1" circle punch, Scallop Trim edge punch, Crop-a-dile, jumbo eyelets (retired), Stitched grosrain ribbon Pacific Point, Linen Thread, White Gel Pen, Stampin' Dimensionals, Sponge Daubers
I don't know about you, but when I was walking around with the kiddos yesterday, it hit me how the trees have seemed to go from green with some reds and yellows, to almost bare with some reds, oranges, and yellows barely hanging on!  I guess I can't pretend that Fall isn't totally here.
So, when I was working on cards for my Fabulous Fall class, I had to go for those warm and cozy tones to fill up the card.  And this is what I came up with:
I played with textures and golden colors in this card.  I swear, More Mustard cardstock gets so neglected at my house until fall time!  But here are some of the touches we did to put together this card:
1.  We stamped the leaf image from Lovely as a Tree with Versamark and then used Clear embossing powder to emboss the image.  Then we sponged with Cherry Cobbler and More Mustard ink to make the glowing color.  You can also see where we took the Natural Composition specialty designer series paper and colored it in with ink and a water brush/pen.  It makes a really pretty subtle color effect.
2.  We also spritzed the card base with Gold Smooch Spritz.  It is always so hard to capture that in a photo but you can kind of see it here.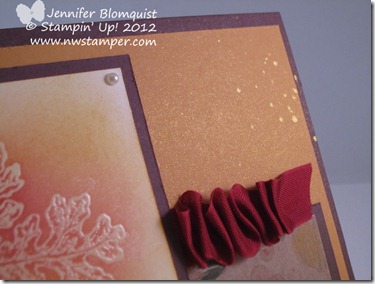 3. Finally, I had made a version of this card that didn't have the extra Chocolate Chip cardstock matting the cardfront (and acting as the cardbase); but just having More Mustard as the cardbase didn't quite work.  So, I went with the dark cardbase and just added an insert with a fun stamped touch.
So in the end, we did lots of different little things that came together for a pretty and rich effect!  What do you think?  Is it "Fall" enough for you? 
---
Did you see November's Ink-redible special?
Get a 
FREE
 set of 
10 ink pads
 with a qualifying order/party; or get them free when you join the Stampin' Up! family!  
See the details here

To Order Stampin' Up! Products Anytime, click here!
Its Ink-redible November!
Get a FREE set of 10 ink pads with a qualifying order or party; or get them free when you join the Stampin' Up! family!  Learn more
Are you earning your Northwest Stamper Rewards? Every order gets you closer to your FREE stamp set! Click here to learn more!
So, I've been missing making videos and so I wanted to get back into the groove and so I started thinking about what would be a fun topic…. and so I decided to show folks how to use the Stamp-a-ma-jig!
This is one of those tools that most people don't get past the name.  They either don't have any idea what it is, or they think it sounds complicated and get intimidated.  Well, I'm here to tell you that it is actually really easy; and it is a lifesaver sometimes for cards where precision matters!
So, I decided to CASE myself and make a little card based on the card I posted a couple days ago.  Here is the finished product:
I LOVE the Natural Composition paper and the Whisper White looks really pretty against the Very Vanilla in person. And don't forget, this flower stamp set (Reason to Smile) is only available for a few more days!  The last day to get it for only $5 is July 31st!
Anyway, the topic was all about using the stamp-a-ma-jig.  So, if you don't have any idea how to use it or are curious about 2-step stamping, take a look at the following video.  And if you still have questions, drop me a line at jennifer@nwstamper.com and I'd be so happy to answer them for you!
Perfectly Aligning Images with the Stamp-a-ma-jig

To Order Stampin' Up! Products Anytime, click here!
Are you earning your Northwest Stamper Rewards? Every order gets you closer to your FREE stamp set! Click here to learn more!