Welcome to this page where I'll be sharing exclusive sneak peeks as I get them from the new Stampin' Up! idea book & catalog that starts July 1, 2011.
As I add new projects to this page, I will notify you in my monthly newsletter – so if you aren't already on my mailing list, sign up here!
*** UPDATE!  The Spring Is Blossoming promotion is here!
Have the chance to order the stamp set and paper pack used in the samples below when you place an order of $20 or more; or get them FREE when you host a party of $350 or more.
See more details here. ***
Sneak Peek #1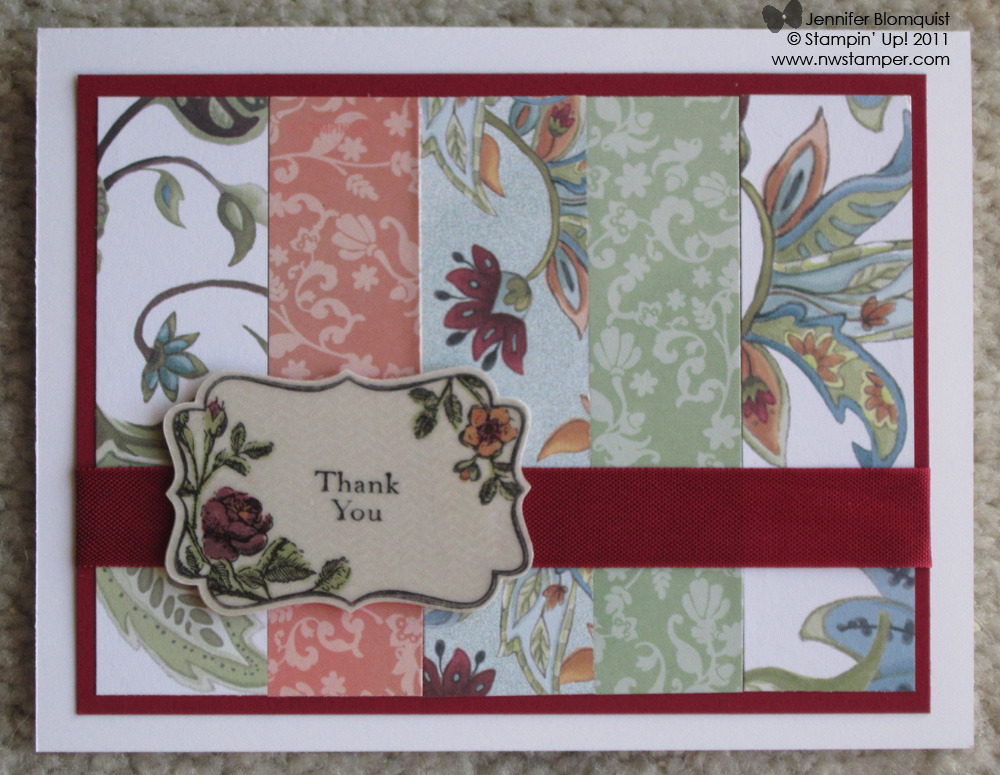 Isn't this the prettiest paper and stamp?  They will both be available for a limited time to order starting April 1st and then it will be gone until the new catalog arrives on July 1st.  Email me at jennifer@nwstamper.com for more information and to reserve yours!
Sneak Peek #2
With this card, I wanted to again highlight the pretty flowers and details in the label stamp and so I stamped on cardstock weight vellum and then colored on the "underside" of my stamped image with markers.  This softened the colors of the markers and also made sure that the fine details were still visible.  I then added a punched out sentiment to the middle which hides the Stampin' Dimensional holding it up.  And I had to use some of the new paper that is being previewed in April as well.
Sneak Peek #3
How pretty is this paper? Seriously!  I thought the flower was so pretty that I had to let it stand for itself in this card.  I coordinated it with the flourish label that I heat embossed with black embossing poweder.  A little bit of ribbon, some matching brads, and then I stamped the sentiment before cutting it out and sponging to make it fit the tone of the card a bit better.
Sneak Peek #4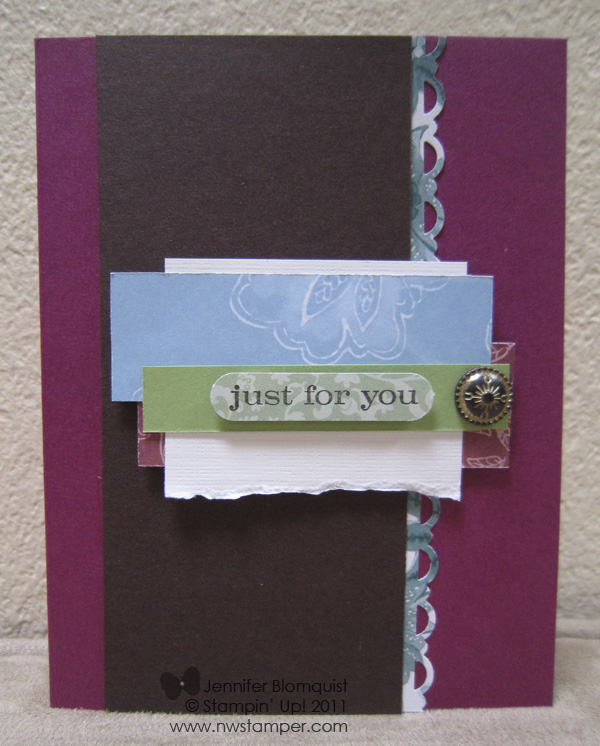 This card doesn't have a lot of obvious previews in it, but I had some extra scraps of the designer paper lying on my table and started stacking them together and liked what I got.  So the blue pattern, the Razzleberry pattern, the scallop border, and the paper used with the sentiment are all from the same paper pack.  Its something a little different, but I like it.
Sneak Peek #5
This sample shows how you can actually layer other punches with this stamp for some cute effects as well.  In this case, I used the 1 3/8″ x 5/8″ oval punch to add in the "just for you" sentiment.  Add some twill tape tied off with linen thread and you have a great neutral card for this spring.
Sneak Peek #6
For this example, I was playing with my Presto Patterns designer paper and sponged it to match my Four Frames label punchout.  I also love how the Sincere Salutation sentiments fit almost perfectly into this frame.  Gives you lots of versatility!  I also used the Paisley Prints pattern paper for a fun contrast to the sponged blue.  It almost looks like its own sponging huh?
Sneak Peek #7
Coming Soon!  In the meantime, check out the other projects I've been posting on my blog.
*********
If you like these stamps and paper, they will be coming with the new Idea Book and Catalog in July but you will have the chance to get them early with a special promotion starting April 1!
See paper and stamp set images online in the Online Store here
**********